Diocesan Funds & Endowments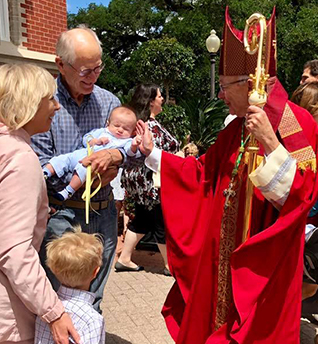 If you want to make an incredible life-giving impact, then a gift to a Diocesan Endowment or Fund is a great choice. You can participate in historic preservation, educate our future priests, minister to the poor, provide scholarships and support for Catholic education, or ensure that our Silver Shepherds are well cared for in their retirement years.
Non-endowed funds are spent as soon as they can be wisely and appropriately used for their intended purpose. These funds take care of the "here-an-now" expenses of today. Endowed funds are contributed by many donors and are set aside for specific purposes. The principal in an endowment is professionally managed by the Diocese and remains untouched forever. We additionally adhere to morally and socially responsible investing standards set by the United States Conference of Catholic Bishops (USCCB).
If you choose an endowed fund, only the income generated will be expended to meet the specific purposes for which it was established. In this way, your gift keeps on giving year after year.
You can make an outright gift today or make a planned gift through your will, a charitable gift annuity, or a beneficiary designation on an insurance policy or retirement account.
Choose the fund category below to learn more about your area of interest. When you are ready, call the Office of Stewardship and Development at 337-261-5642 to discuss your interest areas or to explore other options.